Siggy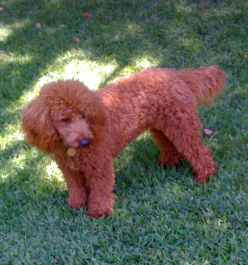 I am the pet mom of a 3 1/2-year-old miniature poodle, Siggy, who at the age of six months suddenly became terrified of noises and people. Walking down a quiet residential street, he would try to run away if he saw someone a block away on the other side of the street or heard a car start up. A trip to the vet would leave him so drained that he would sleep for hours upon returning home and not return to normal until the next day.
I was referred to Dr. Malamed by Siggy's vet after socialization exercises with an excellent trainer did not resolve the issues. Dr. Malamed really got 2 patients, as I have medical challenges of my own that she needed to work around. With love and understanding of everyone's needs, she worked miracles with Siggy. Siggy is no longer fearful of noises. While still very shy, Siggy's tolerance level for people stressors is much higher. We can go on walks without him becoming so stressed that he is in obvious pain. When he does become stressed in unavoidable situations, he recovers quickly. He is a much more confident, comfortable, relaxed, and happy Siggy who is a joy to be with!
Marqie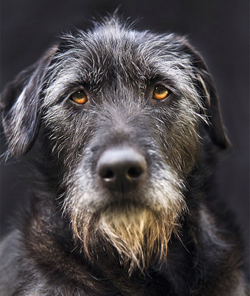 Finn
We had already tried two private dog trainers before finding Rachel. Our rescue dog came to us very leash reactive. We had been making some progress using positive reinforcement techniques but Rachel really helped us take behavior modification to the next level. Our dog has made noticeable progress working with Rachel.
Rachel has a very calm and easygoing demeanor that will put both you and your dog at ease. Her professionalism is reassuring and her approach is very thorough. You are in good hands with Rachel!
Cosmo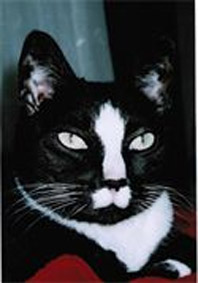 For 13 years, I lived in fear that Cosmo, my vet phobic cat, would have to go to the vet. Recently, at the age of 15, that became a necessity. The trip, with its unexpectedly positive outcome, was only possible because of Dr. Malamed's brilliant guidance and support over the preceding months. The blend of behavioral therapy and anti anxiety medication made this outcome possible and even resulted in the vet tech describing Cosmo as a "good boy". These certainly were not words I had ever heard anyone in the vet's office use in relation to Cosmo. I cannot honestly say that I look forward to future visits to the vet, but I can now rest assured that I will be able to get medical help for my cat should it become necessary. The most amazing part of the process has been that Cosmo thinks our crate training is play and often initiates the start of a training session by going to the closet where his training reward toy is kept. Through the training, his fear of his crate has disappeared completely! I am truly grateful, with all my heart, for the highly effective behavioral plan developed for us by Dr. Malamed.
Sherry
Jeter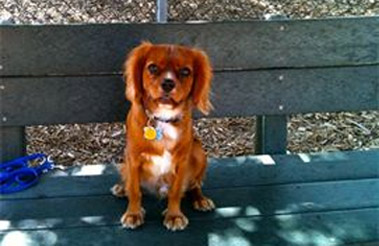 Dr. Malamed,
Jeter has been doing great! He has been an absolute changed dog since our appointment. He is much more relaxed, happy, and care-free. When he has something to guard, he trusts me. It is amazing! When he would guard things at first, he would keep them in his mouth, growl and attack when someone approached. After our appointment, and ignoring the guarding, he would keep the object next to him. He will now lay down about a foot away from the object. He rolls on his back and accepts the affection without growls or any negative behavior. I have even kissed him on the head while an object seemed to be guarded. He has become such an amazing dog. The house is a much more relaxed and happy environment. Thank you for giving me my dog back!!
Kelly Cheresnick