Cowboy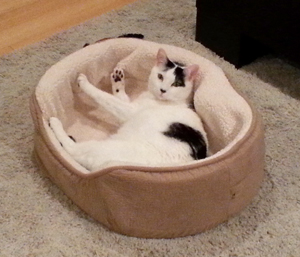 I was impressed with Dr. Malamed even before I met her! Her credentials as a Veterinarian and board certified animal behaviorist were exactly what I was looking for. Extensive intake forms that I completed and returned before her home visit assured that she was going to know as much about my two kitties and the situation before her arrival. Dr. Malamed is kind, knowledgeable, and thorough. Before her home visit, one of my cats had an inappropriate urination problem, meaning that he was marking furniture and other things outside of his litter box on nearly a daily basis. I knew that Cowboy didn't want to be a "bad" kitty, but I needed help understanding what to do about the problem.
Dr. Malamed made absolutely on target recommendations. The result of Dr. Malamed's visit and care is that Cowboy's marking outside the litter box has decreased from nearly every day to maybe once a month, and usually only during a particularly stressful time such as when I am out of town. Even then, he has only marked on one particular item that is easily washed. This has made for much greater peace in our household, for humans and felines alike!
One of the things that I really appreciate about Dr. Malamed is her willingness for follow-up care and recommendations. I really felt that she was always accessible and that she was monitoring Cowboy's progress even after her visit. I really enjoyed working with Dr. Malamed. She has done a great job with Cowboy, and his behavior is MUCH improved!
Kim
Nakita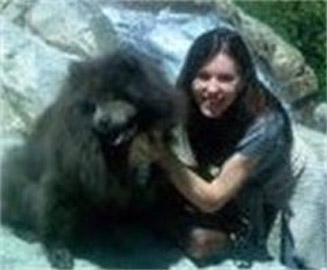 Nothing is more frightening than to have a pet in distress! Knowing we needed an expert, we came to Dr. Rachel Malamed to address behavioral and separation anxiety issues being displayed by our ChowChow Nakita–often considered a very difficult and stubborn breed to handle or interact with from the outside.With a very clear and customized action plan set forth by Dr. Malamed, we had success! The tools and information we gained from Dr. Malamed and her supportive staff fundamentally changed the quality of life for our dog and family. In our case, through behavioral techniques and medication we were able to change Nakita's behavior and become proactive, rather reactive to her needs. As our dog became deaf and blind, the skills we gained helped our dog transition during very challenging physiological changes. She was able to overcome profound levels of anxiety and live a more productive life.We will always be in gratitude!
Mark and Melinda Lewis
Giggsy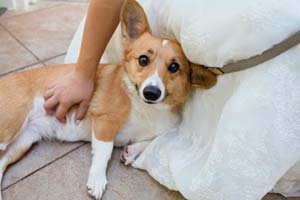 Giggsy (our four and a half year old Corgi) has been a patient of Dr. Malamed for about six months. As a puppy Giggsy suffered a traumatic event which caused her to be extremely anxious and fearful of going outside. At her worst, Giggsy wouldn't go outside (even to go to the bathroom) at all during the day.
My husband and I had tried a variety of different strategies to help Giggsy overcome or at least cope with her fears. Unfortunately, all the products, training, and private sessions with various different trainers never worked. At the point that we had reached out to Dr. Malamed, Giggsy's fear had gotten progressively worse from all the differing approaches.
It wasn't until we started working with Dr. Malamed that we really began to see Giggsy's behavior improve. One of the benefits of Dr. Malamed is that she comes into your home and is able to observe your pet's behavior where it matters most. Additionally, because she is a veterinary behaviorist she helps treat not just the behavior, but also get to the underlying psychological and physiological source of the problem. We had consulted with veterinarians and obedience trainers, but it wasn't until we started working with Dr. Malamed who is overwhelmingly skilled in both that we have really been able to address Giggsy's issues.
We continue to look forward to Giggsy overcoming her fears, and cannot thank Dr. Malamed enough. Dr. Malamed really took her time to get a handle on Giggsy's issues, was extremely understanding and responsive to any of our follow –up questions, and checks in on her progress often.
Lulu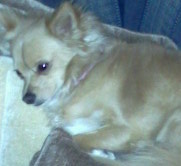 Lulu Belle, my rescued long haired Chihuahua, has had issues with loud noise; fireworks, hammering, nail guns etc. Regular vet and I had tried everything from tranquilizers to holistic Rescue Remedy. Nothing worked, with the first noise Lulu would start pacing and panting, which rapidly turned to her frantically running around the house. Last year (2014) after several months of reacting to loud noises coming from next door neighbor she finally broke thru the fence. She was hit by a car several miles from the house, which resulted in a dislocated hip, broken ankle and 14 weeks of recuperation time. Besides cementing the fence closed, I knew I had to do something to help Lulu learn how to deal with loud noises. My regular vet recommended veterinary behaviorists, Dr. Malamed. Of course, most of my family and friends thought I was crazy to take my dog to see a behaviorist. Lulu's well-being was more important and so the appointment was made and off to LA we went. Dr. Malamed was our last hope, as I said I had tried everything short of rehoming Lulu! Initially we tried anti-anxiety medications in addition to the behavior modification exercises, but in the end the medication did not work well with Lulu. However, the behavior modification has worked perfectly. I'm happy to say Lulu Belle made it through this year's 4th of July with flying colors. Six months out, I can use the command without the treats and Ms. Lulu is a calm and happy young dog.
I will be forever grateful for Dr. Malamed's guidance and methods.
Teri