Wilco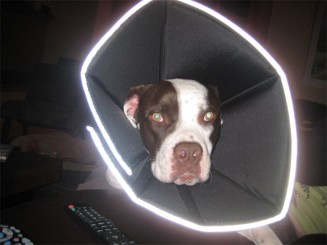 I took my pitmix rescue, Wilco, to Dr. Rachel Malamed at the California Veterinary Behavior Clinic in March of 2011 as he was suffering from severe separation anxiety. When I say severe, although he was not intentionally destructive, he pooped, peed, barked, sobbed, paced, drooled constantly while we were gone and would not touch his food or treats (he is ordinarily a glutton). Although he was fine in his crate when we were home, when we left he was even worse, eventually breaking out of it. He was absolutely miserable, a pathetic mess. This was all confirmed by video. Fortunately we work from home and he loves doggie daycare so he doesn't need to be left alone often but no one wants to be held hostage or not be able to go out to a movie or dinner.
After an extensive written history, watching our videos and personal observation, Dr. Malamed prescribed a treatment plan to implement before leaving in addition to a detailed behavior modification plan. Over the course of 6 months Wilco gradually improved. Fortunately he had no adverse side effects from any of the meds. He was better with each subsequent departure. We weaned him off the medicine in November and although I won't say he looks forward to out departures) he is calm, happy, enjoys his treats, no longer barks or shows any signs of anxiety while we're gone.
Dr. Malamed is an excellent vet and has terrific "bedside manner" with both human and canine clients. And sure, people look at you funny when you tell them your dog has a shrink but you know what; when there is treatment available, why suffer? Whether you are a human or a dog.
Randi
Helios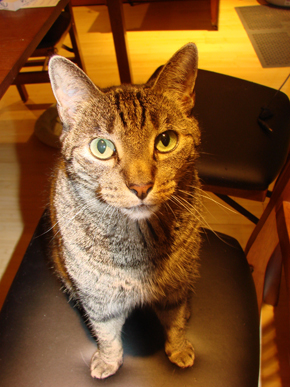 Helios is a 7-year-old domestic short hair that I picked up off the street when he was approximately 3 months old. He's been a wonderful love-bug and massively cuddly. He mostly gets along with my two other cats. However, when he was about 5-years old (after I had moved to a new place with a new roommate), he started urinating in inappropriate places (the couch, my bed – while I sleeping in it!, piles of laundry, and my shoes). He was still friendly and affectionate with me, but sometimes would pick fights with the other cats. I had tried extra play time, extra litter boxes, adding cat trees, adding extra feeding/watering stations, and still had trouble with this! I just accepted that my apartment was going to smell like cat pee, since giving him up to a shelter was not an option.
I took him to the vet for his annual check up and was referred to Dr. Malamed for more behavioral help due to the lack of a medical reason for the inappropriate urination. Dr. Malamed was very thourough in her assessment of Helios to make sure she had a good medical and behavioral history before she offered any interventions. Her positive energy was inspriring – it brought me hope that I could live differently. She helped me find some additional ways to help redirect him back to the litterbox, which has, for the most part been successful. He still "relapses" sometimes, but it is usually because I wasn't as strict on the plan that Dr. Malamed had suggested and he can't be blamed for that. With the help from Dr. Malamed, Helios and the other cats are happier, I'm happier, and guests like to come over since the apartment doesn't smell like cat pee!
Cadyn
Matchka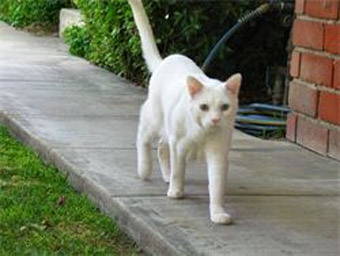 I was about to consider putting my cat down or relinquishing him to a shelter due to severe aggression (he bit my nose which required 30 stitches). I've had many cats during my lifetime but had never had one that acted like this. I soon discovered that Matchka was having stress related issues and within 2 weeks of seeing Dr. Rachel Malamed and following her recommendations he became much calmer and relaxed. PLEASE make an appointment with a Board Certified Veterinary Behaviorist to identify why the cat is acting the way it does and what the issue is. You could not find a more caring, loving, intuitive, or knowledgeable Doctor than Dr. Malamed. If not for her and her expertise I may have gotten rid of Matchka and not be enjoying the tight bond I now have with my boy! And because of Dr. Malamed's knowledge, the human/animal bond grows stronger with each passing day. All I can say is thank you so much Dr. Rachel! You are worth every penny!
Kelly Cheresnick
Ducky
There were no signs of abnormal behavior at the shelter, but it was clear after a few weeks in her new home that Ducky also had a rough start in life. All owners love to come home to a dog who greets you with excitement, but Ducky's enthusiasm was frenzied and sometimes it took as long as an hour for her to settle. When I was home, she would follow me everywhere and appeared to panic as soon as I was out of sight.She became destructive when I left, even though she was always with my other dog. Having experience in dealing with difficult dogs, I figured that with a little effort I could help her. However, as I began to research separation anxiety, I was flooded with information and suggestions, much of which contradicted each other.
After months of trying everything without success and having friends and family urging me to relinquish Ducky, I turned to a veterinary behaviorist. I walked into Dr. Malamed's office skeptical and with little hope that I would even be able to keep my dog, but left with a thorough plan of how to begin addressing Ducky's separation anxiety. Although discouraged that this was my last chance to help Ducky, I was determined to do everything that Dr. Malamed suggested.
Two years later, I am happy to say that Ducky is still part of our family and can be left for extended periods of time. While Dr. Malamed's protocol was key in modifying Ducky's behavior, the support she gave to me during the process was equally important. Having a dog with behavioral problems is frequently overwhelming and sometimes embarrassing, and having a professional who not only knew what I was struggling with but also how to address it was essential. I cannot imagine my life without Ducky, both by my side and sleeping quietly alone on the couch at home when I am gone, and I will forever be grateful for the support and treatment plan that Dr. Malamed provided.
Hatley McMicking