Patti
My name is Paloma, and Dr. Malamed helped me a few years ago with my dog Patti. I am a Registered Veterinary Technician, and when I met Patti, she had undergone major surgery to repair a rear leg injury at the hospital I worked at. Prior to receiving care from our facility, she was rescued from a shelter after enduring the injury for months before without surgery.
Of course, I fell in love with her. I spent many months with her at work and since she did not have a forever home, I wanted to give her one, or at least keep her at home with me until we found the right fit. Patti was the sweetest girl, but had never been around cats. I had two cats at home, and I knew that it would make or break my decision to keep my sweet girl.
Dr. Malamed did not hesitate to help and insisted on being there the first time Patti met the cats, and would help me with the acclimation. When she arrived, she helped to calm my nerves, and walked me through the whole process. She showed me how to train them all to get along in a positive environment, and how to work up to them being able to live under the same roof without worry. After a few weeks, the change in Patti was amazing!
Patti has now lived with up to five cats over the years, and she loves them all. I have an outdoor cat that decided to make my backyard her home and many days you can look out the window and see them sunbathing together on the patio couch. Patti will let the cats lick her, snuggle with her, and sleep with her. If Dr. Malamed had not made her services available for us, I don't think Patti and I would have been able to be together, and I can't imagine my life without her. Thank you Dr. Malamed for your patience, understanding, and steadfast effort!
Paloma
Aki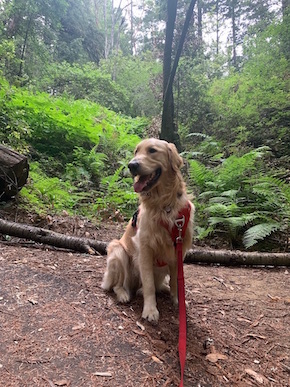 Aki is a sweet well-behaved Golden Retriever that gets along with everyone from humans, other dogs, and even cats. He is a pleasant dog to live with and I and everyone in my family loves him very much. However, he is very fearful and sensitive around loud sudden noises, especially fireworks. It started to affect his quality of life as I could not take him outside without a loud noise triggering a panic attack. He also started to generalize that fear to other noises such as car engines and gun shots. I live in an area where fireworks occur frequently and there there's a shooting range attached to the park where I walk him daily.
I knew that I had to do something to make things better so that he could live a full happy life. Initially, I sought help from a certified pet training professional, but the trainer recommended that I should get help from a veterinary behaviorist as well. This is when I found Dr. Rachel Malamed.
Dr. Malamed knew exactly what Aki had been going through. Aki was given some desensitization/counterconditioning regiments and medications for his noise phobia. With her intervention, unsurprisingly, he has made major improvements. He can go out for walks and play without panic attacks now. He is no longer fearful around car and gunshot noises. Although he still does not like the sound of fireworks, he does not go into a full blown panic attack.
I know with what Dr. Malamed has taught me, I can continue on the regiment and get him to where he needs to be. Her methods are completely humane, force-free, science based, and best of all: effective. Aki and I are forever grateful for Dr. Malamed and I cannot recommend her enough!
Tyler