West Hollywood Animal Hospital
I have referred dozens of patients to Dr. Malamed over the years.  Whether it's fear, anxiety, aggression, separation anxiety or otherwise, I know my clients and patients will be in great hands with Dr. Malamed.  I have also taken advantage of her amazing staff training programs, utilizing her expertise to train my entire staff on low stress handling and restraint techniques.  This program has been remarkably successful and is frequently complemented by our clients.  
Monica Revel, DVM/owner
West Hollywood Animal Hospital
Olive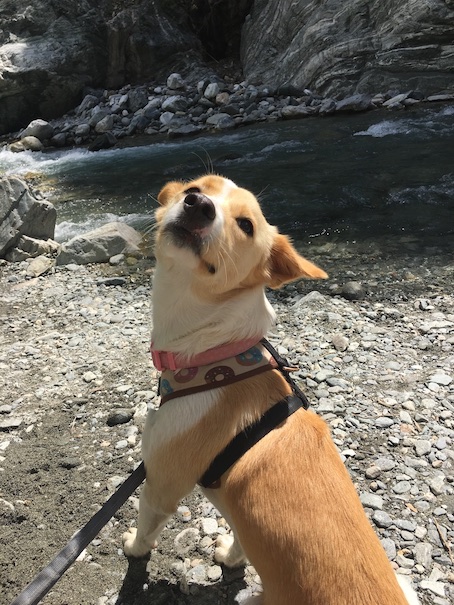 We rescued our sweet Olive and her brother Henry from a dog meat farm in South Korea a year and a half ago. For the first six months of their life at the dog meat farm, our dogs only knew abuse, deprivation and terror.
After we rescued the dogs, Olive had trouble becoming comfortable with her new surroundings. While her brother loved going out for walks, meeting new dogs and smelling new smells in his new neighborhood, Olive shook in fear for the entire walk. Any new person, car, dog, trash can, paper bag — even any abrupt sound, or the wind blowing through the trees — terrified her. She was anxious and unhappy.
We started working with Dr. Malamed about a year ago. Dr. Malamed worked with Olive and both of us to make sure that we were meeting Olive at her level, and implementing behavioral training that increased Olive's trust for us and her confidence in the world around her. Due to the severity of her deprivation and her mistreatment as a young puppy, we also worked with Dr. Malamed to develop a pharmacological treatment plan to help ease Olive's anxiety.
As a result, Olive has transformed. She is so much less anxious on her walks, when meeting new dogs and meeting new people. Olive has genuine quality of life. Her personality has started to shine through (as I write this testimonial, she is having a great evening playing with her brother, and more than holding her own during their wrestling matches). Olive is a happy, smart, well-behaved and very, very sweet dog.
We would not have been able to give Olive the full and happy life she deserves without Dr. Malamed's help.
Hank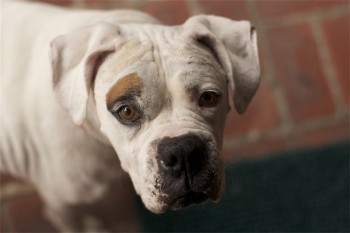 I'll be honest, I was skeptical at first of dog behavior therapy. I just pictured a little psychiatrist's office for dogs. So LA .I was afraid it would either be very new age, or like a certain TV show where we'd have to assert our dominance and push our dog around. But, we had to go as our recently rescued, frequently ill boxer, Hank started lunging and biting veterinarians.
My mind was eased as soon as we met Dr Malamed. She has a very balanced approach, keeping the people's and dog's needs in mind while also keeping everyone safe and happy. We instituted immediate, but not severe changes at home and at the vet's office, and started on some slower, longer term goals, like getting him comfortable with being handled in areas he wasn't so sure about, and not being so needy. We are still working on those, but he has come an incredibly long way. My husband and I have heard many remarks about his vastly improved behavior and attitude in the office and on the street (Hank has inflammatory bowel disease, so we are frequent vet goers.) He hasn't tried to bite anyone in almost a year, and he is so relaxed while waiting at the office that he'll take a quick snooze. When his temperature is taken, he doesn't even flinch now, it's amazing.
I didn't expect how fun it would be to work with Hank. It's amazing and exhilarating to see positive everyday changes. When we see a behavior we are not sure about, or have to change our routine in some way, I can email or call Dr Malamed for a follow-up. She is quick to respond and give advice or just confirmation that we are on the right track, or she will suggest changes if we are doing things that would make Hank uncomfortable. When I haven't emailed in a while, she'll contact me to make sure Hank is doing fine. I really value that. I highly recommend Dr Malamed to anyone whose animal has a behavior issue.
Valerie Fletcher
Siggy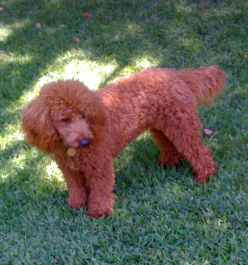 I am the pet mom of a 3 1/2-year-old miniature poodle, Siggy, who at the age of six months suddenly became terrified of noises and people. Walking down a quiet residential street, he would try to run away if he saw someone a block away on the other side of the street or heard a car start up. A trip to the vet would leave him so drained that he would sleep for hours upon returning home and not return to normal until the next day.
I was referred to Dr. Malamed by Siggy's vet after socialization exercises with an excellent trainer did not resolve the issues. Dr. Malamed really got 2 patients, as I have medical challenges of my own that she needed to work around. With love and understanding of everyone's needs, she worked miracles with Siggy. Siggy is no longer fearful of noises. While still very shy, Siggy's tolerance level for people stressors is much higher. We can go on walks without him becoming so stressed that he is in obvious pain. When he does become stressed in unavoidable situations, he recovers quickly. He is a much more confident, comfortable, relaxed, and happy Siggy who is a joy to be with!
Marqie