Lulu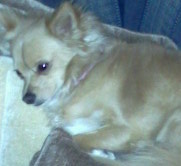 Lulu Belle, my rescued long haired Chihuahua, has had issues with loud noise; fireworks, hammering, nail guns etc. Regular vet and I had tried everything from tranquilizers to holistic Rescue Remedy. Nothing worked, with the first noise Lulu would start pacing and panting, which rapidly turned to her frantically running around the house. Last year (2014) after several months of reacting to loud noises coming from next door neighbor she finally broke thru the fence. She was hit by a car several miles from the house, which resulted in a dislocated hip, broken ankle and 14 weeks of recuperation time. Besides cementing the fence closed, I knew I had to do something to help Lulu learn how to deal with loud noises. My regular vet recommended veterinary behaviorists, Dr. Malamed. Of course, most of my family and friends thought I was crazy to take my dog to see a behaviorist. Lulu's well-being was more important and so the appointment was made and off to LA we went. Dr. Malamed was our last hope, as I said I had tried everything short of rehoming Lulu! Initially we tried anti-anxiety medications in addition to the behavior modification exercises, but in the end the medication did not work well with Lulu. However, the behavior modification has worked perfectly. I'm happy to say Lulu Belle made it through this year's 4th of July with flying colors. Six months out, I can use the command without the treats and Ms. Lulu is a calm and happy young dog.
I will be forever grateful for Dr. Malamed's guidance and methods.
Teri
Chesterfield, Daphne and Thurston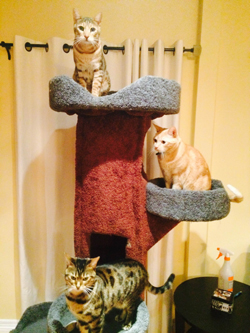 My orange tabby and I moved-in with my fiance and his two bengal cats. Unfortunately, my fiance's bengals did not welcome my tabby. Both of the bengals were very mean to my cat. One constantly hissed and growled at my cat, and the other attacked my cat whenever he could. We had to keep my cat locked in a room to keep him protected from the bengals when we left the house, or when could not closely watch them. He was either locked in a room or being hunted by the bengals. He always had scratches on his face where the bengals had drawn blood during attacks. He even got an infection from one of the bad scratches he got from the bengals. Eventually, my cat began marking inside our house many times per day. Our home was a stressful place to be.
We tried creating positive associations and working with the cats on our own, but after months of having to either keep the cats separate or break-up fights when the cats were together, we decided that we needed professional help. Our vet recommended Dr. Rachel to us.
Rachel helped us to provide the cats with more enrichment and positive associations. With her assistance, my tabby stopped marking and one of the bengals started to like my tabby. The other bengal was more difficult, but now sleeps with my tabby and they even groom each other! Often, all three cats sleep together on the same bed.
Rachel took what appeared to be a hopeless situation, and caused a miracle for us. My tabby no longer has to be locked in a room when we leave the house; and he almost never marks. The bengals seem to like my tabby, and instead of playing referee every night, we have a peaceful home life.
Rachel is down-to-earth and very intellectual. She is great at what she does. We are so pleased with her work; we highly recommend her.
Elizabeth
Mosely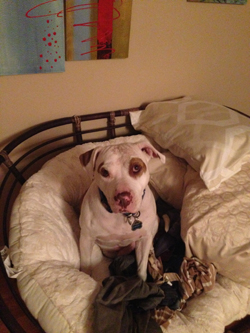 When my husband and I found Dr. Malamed, I was at the end of my rope and she was truly our last resort. We adopted Mosley Bear, our 2 year old Pitbull, in December of 2013. Though he is the sweetest, most loving dog you will ever meet, we learned very quickly that he suffered from a severe form of separation anxiety. When we left the house with the dogs in the backyard, Mosley displayed destructive behavior such as chewing through our wooden fence.
We replaced those gates with thick iron plated gates. He took to chewing on the side of house, and actually even chewed through a metal door frame and broke multiple teeth. We tried crating him and he would escape the crate and severely injure himself in the process. Both of us work full time and although we never leave the dogs alone for more than 6 hours at a time, even an hour was a problem for Mosley. At this point our other dog had just torn her ACL and had to have surgery, we found out we were expecting a baby, and were just desperate for help.
Dr. Malamed came to our house to meet Mosley and to evaluate him in his environment. She was knowledgeable, friendly and extremely accessible and responsive to emails throughout the process. She was always willing to look at our "departure videos" and give us feedback on his progress. It took about 3-4 months and a combination of behavior modification and the correct dosage of the medicine. Mosley was a completely different dog. Seven months later, I am happy to report that Mosley is doing amazing and can be left inside while we are at work. All of us couldn't be happier! We are so lucky to have found Dr. Malamed!!
Christina
Ava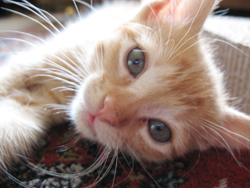 Fear and aggression issues with my cat Ava, that had been going on for years, led me to call Dr. Rachel. So glad I did. With her help I have been able to bring my cat around again to her old happy self.
Erik D