Tax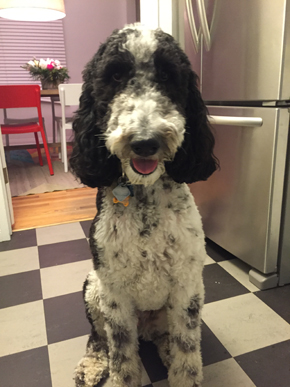 We were referred to Dr. Malamed by our vet after our otherwise delightful and charming 22 month old standard poodle, Tax, showed signs of "stranger induced aggression." He had never bitten, but he began to bark aggressively at strangers and visitors to our home, even visitors he knew and loved. Our vet told us that although he had never bitten anyone, "you can never trust him around strangers and you may need to put him down." Needless to say, we were terrified and jumped into action.
For our initial session, Dr. Malamed came to our home. Her bedside manner was relaxed, honest, funny and accessible; we were immediately at ease. After speaking with us for almost an hour, she had us bring Tax into the room on a leash, and she did a series of diagnostic exercises with him. It was clear that he was suffering from anxiety, and that his anxiety took the form of aggression. She gave us a detailed training/treatment protocol.
We were compliant and followed her instructions to the letter. His improvement was almost immediate. By the end of six weeks, we had a different dog: calmer, more obedient, and most importantly, there has not been a single incident of aggression since the day Dr. Malamed came to our house. His follow up was at her office, and she could not believe he was the same dog! He was completely relaxed around her and all of the strangers in her office, and thankfully, he does not need medication.
We are realistic about how we need to manage Tax, and that training him will be a lifelong endeavor, but we now have the tools and the knowledge to keep him and our human friends safe. Her diagnosis and treatment protocol were spot on, and we are so grateful for her assistance.
Mindy & Nicolas Stern
Malta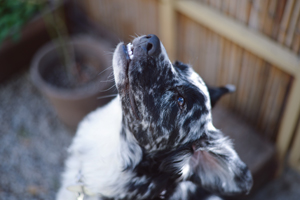 Dr. Malamed was recommended to me by my dog's Canine Good Citizen trainer when she realized I was having a hard time training my dog Malta effectively because Malta was too scared in public places to focus on learning commands or to be comfortable accepting rewards.
When I met with Rachel, Malta was unable to go anywhere outside my apartment complex without a lot of fear. Rachel accommodated us by meeting us at my apartment and observing Malta's behavior. She gave me a detailed list of clear, simple instructions to help train the fear out of Malta in combination with medication. I was very hesitant to put my dog on medication, but I trusted Dr. Malamed and the medication had a life changing effect on Malta. She finally calmed down enough to eat and sleep regularly. She stopped pacing around all the time and she started to make eye contact, to focus more, and to enjoy being a dog. My neighbors who often care for my dog when I'm at work and who were also skeptical later kept telling me Malta was a whole new dog.
Dr. Malamed was great about follow up and her instructions really trained me how to manage my dog's issues more effectively. Malta has since become less scared of the car and even did a three block walk around the neighborhood along side the neighbor's dog recently. The progress has been slow, but would have been impossible without Dr. Malamed's insight, instruction, and treatment. I have recommended her to several friends and I am grateful she was able to intervene with my dog so that Malta and I could both live happier lives.
Ali
Lexie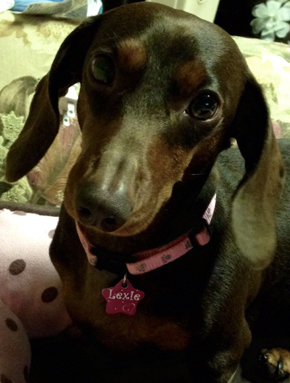 I am the mom of Lexie a 5 year old Dachshund. Lexie has been suffering from separation anxiety since the first day of adoption when she was 8 weeks old. At that time I thought that she would get better as she aged but that didn't happen!!! As she got older her anxiety worsened and I was afraid that she would hurt her self. She tore up the carpet badly. I couldn't believe that such a small dog could do this!! I began to place a heavy object on top of the carpet where she would chew but she managed to move it. This is when I decided to contact Dr Rachel Malamed.
She suggested to video tape her to see her reaction when she was home alone, so I did. When I saw the video it broke my heart. Dr Rachel showed me how to help Lexie to relax and how to teach her that it was ok for her to stay home alone. Not only did she help Lexie but she did helped me as well. As Lexie developed separation anxiety, I did too. I worried and was in such a hurry to comeback home for her. Now those days are gone! Thank you so much Dr. Rachel. You are a life saver!!
Norma
Lucy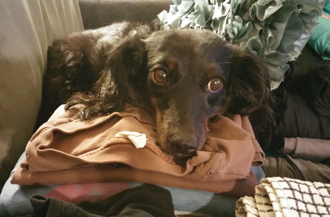 When we moved to Los Angeles with our severely anxious 8 year old dachshund Lucy, we were devastated to leave our former behaviorist behind. Our pup was worse than ever after the big move and we were at the vet with her at least once a month for anxiety-related issues. We were no longer able to leave her home alone for any length of time–she began howling, pacing, drooling, and shaking the second we went for the keys. We were miserable. Prisoners in our own home, terrified we would lose our apartment due to noise-complaints if we so much as ran to the grocery store.
Finally, our vet referred us to Dr. Rachel. We were hesitant to see yet another Dr. because we felt like we had tried everything (years with a behaviorist, several different long and short term meds, etc.).
Dr. Rachel was calm, patient, and confident about helping the three of us and worked with us to create and fine-tune a treatment program. Fast forward a year later and we have never been happier. Lucy actually enjoys spending time alone when we leave her! We couldn't believe it the first time we video taped her and discovered her playing with her toys and sleeping the entire work day! We recommend Dr. Rachel to friends and neighbors any time someone mentions an issue with their pet. We are so grateful to have found her!
Sydney, Stuart, and Lucy