Muffin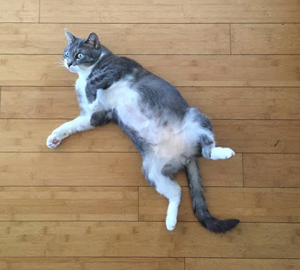 Our cat Muffin had anxiety and behavioral issues that got worse and worse over a couple of years. We were referred to Dr. Malamed by our (wonderful) vet at Mohawk Alley after Prozac helped some but not all of them. The one thing we couldn't solve was the persistent way Muffin behaved around feeding times—sometimes waking us for breakfast by way of face-biting at 4:00 in the morning. Dr. Malamed recognized Muffin's anxiety and attention seeking actions, but it was more than that. Dr. Malamed understood her! After we felt like we'd tried everything, she provided simple, concrete enrichment activities for Muffin that worked, I'm not kidding, immediately. Muffin went from a cat who seemed unhappy and was preventing us from getting sleep to a content and even playful cat.
So far, our sleep and our beloved kitty's well-being have been restored. I can't overstate what a gigantic help Dr. Malamed's advice was! She knows her stuff. She knows pets.
Danielle
Wally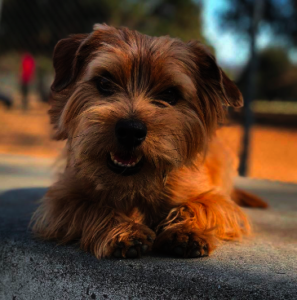 Wally is a sweet and loving terrier, and my husband and I love him very much.  He's a very smart little guy who learns very quickly, but he is extremely sensitive to stimuli.  He would not be able to stop himself from reacting – it was like he had zero impulse control.  No matter what we did, no matter how many positive training classes we took him to, we could not draw him away or calm him down from whatever was upsetting him at the time without physically removing him from the situation. After several intense reactions that we could not pinpoint the true cause, we became concerned that there was a medical issue.  After ruling out a physical illness with our vet, we were led to Dr. Rachel Malamed.  Dr. Malamed came to our home, and as she walked in, she knew exactly how to approach a very sensitive, very reactive little terrier.  She was kind, professional, and extremely patient with us and Wally.  Through our sessions with her, Wally has shown huge improvements in his desensitization, and his fear-based reactions have become less and less as time goes on.  Dr. Malamed helped us give our little guy some relief from his own anxieties and showed us new ways to help train him to handle his impulses better.  He's a much happier dog because of her help, and we are so very grateful to have worked with her.
Lauren
Clancy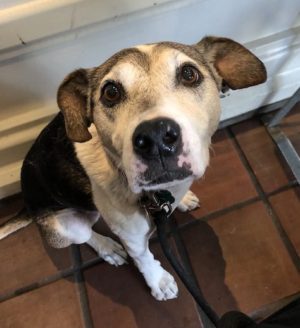 I've owned Clancy for 10 years after rescuing him from a shelter when he was 2. I have owned many dogs in my life, but Clancy was by far the most difficult. He is extremely sweet but his separation anxiety had gotten so intense over the years that it became impossible to ever leave him alone. If he was left outside of a cage he would scratch at doors or pull down our curtains. If he was left in a cage, he would panic and, most of the time, try to escape the cage. This lead to him destroying multiple wire cages and severely hurting his teeth. I spent quite a bit of money on a fairly intense behavior training that involved shock collars and extreme discipline. This seemed to temporarily work, but after a few months I realized that he was basically the same but now terrified of us hurting him with the shock collars. Besides literally not being effective, I now felt my training was inhumane. At my wit's end, a recommendation from my vet lead me to Dr. Malamed. Dr. Malamed came to my home, thoroughly evaluated Clancy and came up with a plan that combined medication with a (much more humane) training method that would get Clancy to be comfortable being left alone. The regiment made sense, but I was skeptical as I have essentially been trying to accomplish this over the course of 10 years. To my surprise, within 3 weeks Clancy totally took to the training and could be left alone. 8 months later and he is doing just as well. I can leave him at home, outside of cage for hours and when I come back, he is relaxed and happy. A total miracle.
I cannot express how drastically Dr. Malamed's interventions improved our situation. My entire life was at the mercy of protecting this dog from ever being alone (for fear he would hurt himself.) No more. Moreover, the methods for training Clancy were not punitive or painful. They were humane and involved positive reinforcement (high value treats) for good behavior (as opposed to punishment for bad behavior.) I can not recommend Dr. Malamed enough and am truly thankful for the work she did to improve the life of me and my dog.
Adam
Mickey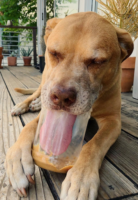 Rachel has been instrumental in the emotional health of our dog Mikey. Mikey has always been a giant ball of love and energy, but Rachel has helped us find the right approach to help Mike feel more calm, safe, and less anxious when he is home, when guests come over, and when people walk by our home. We've seen a direct improvement in Mike's happiness and arousal level since working with Rachel. It's not an overstatement to say that finding the right behavior modification techniques for Mike changed our life and our dog's life for the better. Thank you Rachel!
Todd