Mosely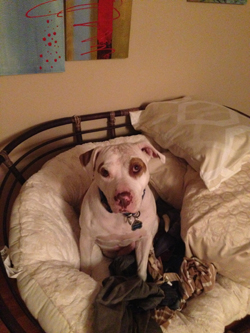 When my husband and I found Dr. Malamed, I was at the end of my rope and she was truly our last resort. We adopted Mosley Bear, our 2 year old Pitbull, in December of 2013. Though he is the sweetest, most loving dog you will ever meet, we learned very quickly that he suffered from a severe form of separation anxiety. When we left the house with the dogs in the backyard, Mosley displayed destructive behavior such as chewing through our wooden fence.
We replaced those gates with thick iron plated gates. He took to chewing on the side of house, and actually even chewed through a metal door frame and broke multiple teeth. We tried crating him and he would escape the crate and severely injure himself in the process. Both of us work full time and although we never leave the dogs alone for more than 6 hours at a time, even an hour was a problem for Mosley. At this point our other dog had just torn her ACL and had to have surgery, we found out we were expecting a baby, and were just desperate for help.
Dr. Malamed came to our house to meet Mosley and to evaluate him in his environment. She was knowledgeable, friendly and extremely accessible and responsive to emails throughout the process. She was always willing to look at our "departure videos" and give us feedback on his progress. It took about 3-4 months and a combination of behavior modification and the correct dosage of the medicine. Mosley was a completely different dog. Seven months later, I am happy to report that Mosley is doing amazing and can be left inside while we are at work. All of us couldn't be happier! We are so lucky to have found Dr. Malamed!!
Christina
Ava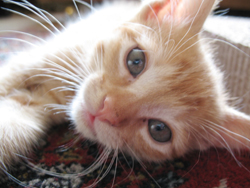 Fear and aggression issues with my cat Ava, that had been going on for years, led me to call Dr. Rachel. So glad I did. With her help I have been able to bring my cat around again to her old happy self.
Erik D
Tax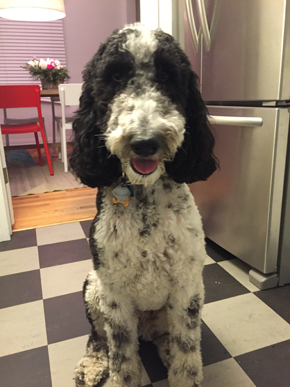 We were referred to Dr. Malamed by our vet after our otherwise delightful and charming 22 month old standard poodle, Tax, showed signs of "stranger induced aggression." He had never bitten, but he began to bark aggressively at strangers and visitors to our home, even visitors he knew and loved. Our vet told us that although he had never bitten anyone, "you can never trust him around strangers and you may need to put him down." Needless to say, we were terrified and jumped into action.
For our initial session, Dr. Malamed came to our home. Her bedside manner was relaxed, honest, funny and accessible; we were immediately at ease. After speaking with us for almost an hour, she had us bring Tax into the room on a leash, and she did a series of diagnostic exercises with him. It was clear that he was suffering from anxiety, and that his anxiety took the form of aggression. She gave us a detailed training/treatment protocol.
We were compliant and followed her instructions to the letter. His improvement was almost immediate. By the end of six weeks, we had a different dog: calmer, more obedient, and most importantly, there has not been a single incident of aggression since the day Dr. Malamed came to our house. His follow up was at her office, and she could not believe he was the same dog! He was completely relaxed around her and all of the strangers in her office, and thankfully, he does not need medication.
We are realistic about how we need to manage Tax, and that training him will be a lifelong endeavor, but we now have the tools and the knowledge to keep him and our human friends safe. Her diagnosis and treatment protocol were spot on, and we are so grateful for her assistance.
Mindy & Nicolas Stern
Malta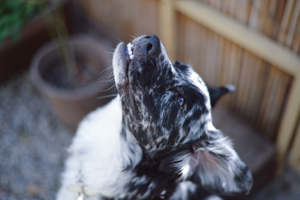 Dr. Malamed was recommended to me by my dog's Canine Good Citizen trainer when she realized I was having a hard time training my dog Malta effectively because Malta was too scared in public places to focus on learning commands or to be comfortable accepting rewards.
When I met with Rachel, Malta was unable to go anywhere outside my apartment complex without a lot of fear. Rachel accommodated us by meeting us at my apartment and observing Malta's behavior. She gave me a detailed list of clear, simple instructions to help train the fear out of Malta in combination with medication. I was very hesitant to put my dog on medication, but I trusted Dr. Malamed and the medication had a life changing effect on Malta. She finally calmed down enough to eat and sleep regularly. She stopped pacing around all the time and she started to make eye contact, to focus more, and to enjoy being a dog. My neighbors who often care for my dog when I'm at work and who were also skeptical later kept telling me Malta was a whole new dog.
Dr. Malamed was great about follow up and her instructions really trained me how to manage my dog's issues more effectively. Malta has since become less scared of the car and even did a three block walk around the neighborhood along side the neighbor's dog recently. The progress has been slow, but would have been impossible without Dr. Malamed's insight, instruction, and treatment. I have recommended her to several friends and I am grateful she was able to intervene with my dog so that Malta and I could both live happier lives.
Ali